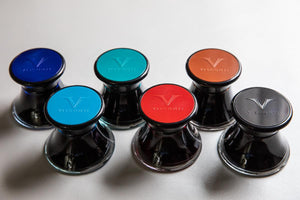 (New!) Visconti Ink Samples!
4ml Samples now available!
Visconti is delighted to announce the launch of their new 2022 inkwell collection. For the first time in nearly a decade the Visconti team presents an entirely new ink bottle, combining a more stable design with groundbreaking functionality. The new bottles are made from high quality reinforced glass and have been redesigned to offer aesthetic appeal as well as improved stability when resting on a desk. The bottles also feature an innovative new ink collection system which enables the user to collect every drop of ink inside the bottle.

The new inkwell has been completely redesigned using a bottom-heavy hourglass shape. Made from extremely heat-resistant glass, the new inkwell will remain steady on any user's writing surface, without the risk of tipping and spilling.


---
We Also Recommend
---