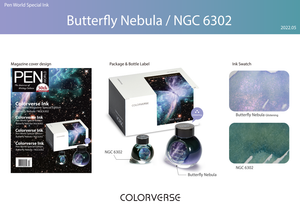 (New!) Colorverse Ink: Butterfly Nebula Ink Sample
Colorize your universe with the Multiverse Series Inks from Colorverse!
This is a special USA only Ink collection made possible by our friends at Luxury Brands (LBA)! This is the first set where the larger bottle is Glistening Ink! This ink is the first on the cover of Pen World Magazine!!
Get a 4ml Sample of this fabulous Ink!
---
We Also Recommend
---