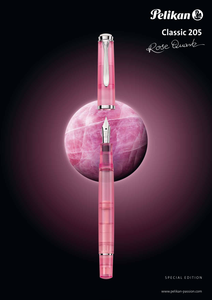 (New!) Pelikan M205 Rose Quartz FPs!
SPECIAL EDITION Classic 205 Rose Quartz
In Stock Now!!
In color psychology, the shade rosé stands for romance and caring. With this emotional background, this ink color is a perfect match for personal, handwritten messages.
The natural gemstone rose quartz varies in its color shades between very soft pink and intense rosé, and the color tone of the M205 Rose Quartz is finely tuned to this range of rosé. In order to let the soft-pink color appear pure, the interior components are light-colored. The velvet-matte material composition allows a view on the plunger mechanism and the ink level. For the first time, this series is available exclusively as a piston fountain pen only. It comes with silvercolored decorative elements such as the typical Pelikan clip and shiny rings. The highly polished stainless steel nib offers a soft writing feel in the nib widths EF, F, M, B, matching different individual handwriting characteristics.
The M205 Rose Quartz fountain pen is THE pen for emotional messages. May it be the fountain pen only or as a gift in the matching color set with the gemstone Ink of the Year 2023 Rose Quartz: the especially refined gemstone flacon is a highlight and spreads a loving message with heart ornaments by itself!
---
We Also Recommend
---