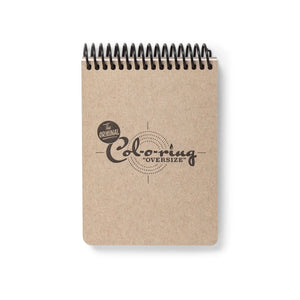 (New!) Col-o-ring Oversize Testing Pad
How can you improve on the perfect ink testing book?
You OVERSIZE it.
You make it larger - almost 250% larger sheet size
You make it slimmer - but 80 square inches (per book) more paper than the Col-o-ring
You give it a durable spiral binding - like one big loopy ring!
Same great paper.
The Col-o-ring OVERSIZE.
Perfect for ink and all your mixed media needs.
Each A6-sized Col-o-ring OVERSIZE contains:
• 4"x 5.5" with die cut rounded corners
• 40 sheets of 100lb/160gsm acid-free bright, natural white, European paper
• slightly toothy paper but not enough to catch even the sharpest dip nib
• sturdy chipboard covers letterpress printed with a crisp application of "afterburner" black
• durable plastic spiral ring, perfect for back pockets or backpacks.
Paper has been rigorously tested to ensure that inks will not not feather, bleed or show through with a variety of wet or dry media.
---
We Also Recommend
---