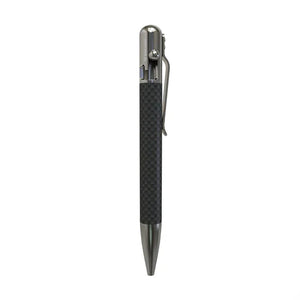 Bastion Carbon Fiber/Stainless Steel BP Collection
 A PEN THAT PERFORMS
The Bastion Executive Bolt Action pen combines the highest quality materials and modern design with fine-tuned craftsmanship, to create a writing instrument that is as luxurious as it is practical.
STAINLESS STEEL & CARBON FIBER OUTER BODY

We offer a proprietary pen featuring a solid carbon fiber tube over a stainless core tube. Carbon fiber is rarely used in pens due to its high cost and manufacturing complexity. Made of 100% genuine stainless steel. A very convenient self-defense tool you can take anywhere without intimidating anybody.

ITEM WEIGHT -2.3 ounces 
PRODUCT LENGTH - 5.25 inches
CLOSURE - Retractable Bolt Action
MATERIAL TYPE - Stainless Steel
NUMBER OF ITEMS - 1
POINT TYPE - Fine
INK COLOR - Black
---
We Also Recommend
---