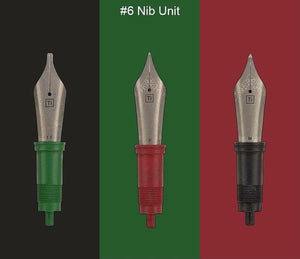 Magna Carta Titanium Nibs (In-House Blank Med Points)
Federalist Pens= USA's First Magna Carta Dealer!
You all know we love to keep current, and feature the latest products here at Federalist Pens! I have been working with the Kanakhara Brothers since 2017! They are among the premier makers of fine Indian Pens! We love Pen Makers!!
Realizing that the future of MC is in custom products, and distributorship of nibs to makers, I have decided to concentrate future stock to nibs. Offered here are their Bock#6 Stock in Steel (Plated/Unplated), and their amazing #6 Titanium In-House Nib in Ebonite Feeds!
MC will be making more amazing nibs in the near future! Expect to see inventory expand to include Flex and 14k Gold Options!! Frank
---
We Also Recommend
---