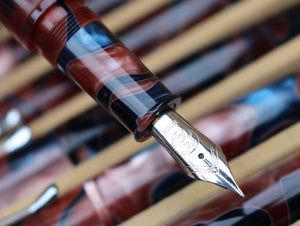 (New!) Bock Nibs! Custom Ground (by Nibgrinder!)
Bock Stamped Nibs that are custom ground for us by Mark Bacas (aka "Nibgrinder")! Choose Italic Stub (Med/Broad), Cursive Stub Italic (CSI- Med/Broad) Nibs! Nibs come with Card/Sticker from "Nibgrinder"!
Pic shows Bock Stamped "Stag" Nib (Nib Only). Med Point Steel Bock Nibs may come unstamped (Blank).
Nibs in Stainless, Gold plated Finishes! #6 Bock Nibs will fit many Brands! Very unique and stunning Upcharge for Gold Plating and/or CSI Grind...
Contact me about substituting these nibs in your pen that takes either #6 Bock or Jowo Nibs! Seating them in those feeds are no issue! (You can substitute these nibs on any #6 Nib Pen on site for $30 more/cover the cost of the grind!) DM/Message me for custom request! Nominal charge to have nib seated into section of your choice- Jowo or Bock
Frank
---
We Also Recommend
---